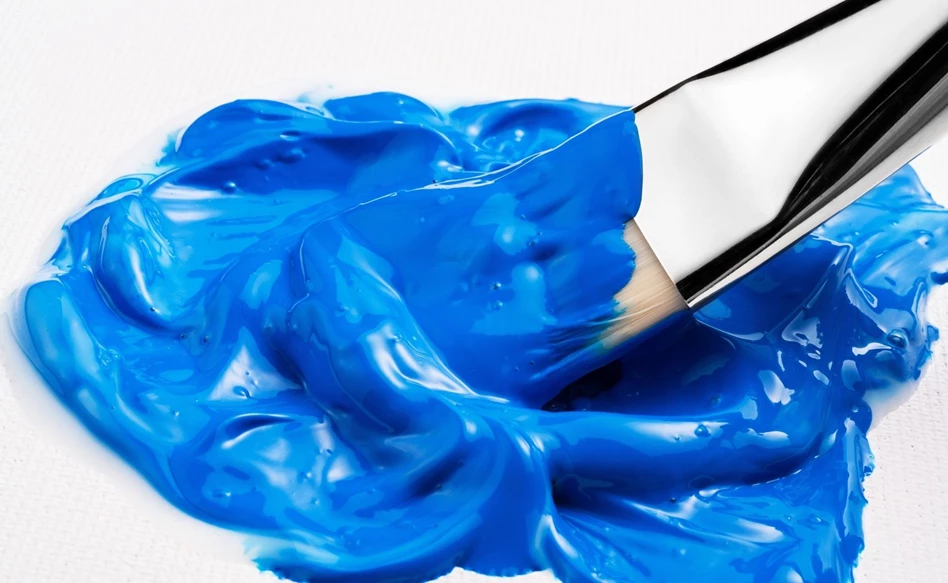 Amsterdam acrylic paint
Acrylic painting tools and accessories
There are many tools and accessories that work well with acrylic paint. Let us help you select the right materials to support you and your artwork. In this blog, we'll answer some commonly asked questions about what materials you should use with acrylic paint.
What type of paint brush is best suited for acrylic paint?
Flexible yet strong hair types work best for acrylic paint. Polyester brushes, also known as filament brushes, are water resistant and suitable for both thick and very diluted paints, which makes them perfect for acrylic paint.
Amsterdam only carries high-quality synthetic brushes; no animal hairs are used. The brushes retain their shape, are medium in stiffness and can hold a large amount of paint. They are available in more traditional and experimental shapes and sizes, suitable for detailed work and larger surfaces. Acrylic paint brushes often have a long handle to allow you to have some distance from your work while painting. Can I still save my brushes with dried-up acrylic paint in them?
Yes, these brushes can definitely still be saved! Dried out acrylic paint has ruined many good brushes, but with Amsterdam acrylic remover, you can clean your brushes long after the paint has dried. This completely biodegradable medium allows dried acrylic paint to dissolve from brushes and other painting tools.
How to use:
Pour some of the liquid in a glass jar to a level that will cover part of the ferrule (metal part), put your brush in and leave it to soak for an hour. Be careful not to add too much remover, as this will also dissolve the varnish on the handle of your brush.
Clean your brush afterwards using soap and water.
Return the hair into its original shape, let it dry completely laying down flat and your brush is ready to be used again. Can I use a painting knife with acrylic paint?
Painting knives are often used for oil painting techniques, but they work great for acrylic paint as well! A painting knife is very useful for mixing colors, especially when you want to combine them with a medium or gel, but did you know you can also use them to paint?
Our heavy body Expert Series acrylics or the Standard Series in combination with a thickening medium give off great results when applied with painting knives. You can use a palette knife in your work to create thin lines, add more texture and to blend colors on your canvas. Metal scrapers are fun to try out as well for special effects and textures!
Painting knives
Amsterdam painting knives are engineered with top-quality one-piece blades made of stainless steel, so they are flexible yet strong while retaining their shape. Because there are no welding spots between the handle and the knife itself, it is really easy to clean. Enjoy excellent grip and comfort with our ergonomically designed handles.
We offer 5 painting knives in different shapes and sizes, from small and precise to big and bold! Choose your preferred size and use them for anything from mixing paints and auxiliaries to applying paint directly onto your canvas.
Scrapers
For even more texture and special effects, Amsterdam offers different scrapers to create different effects with. The strong, sturdy blade of these metal scrapers is resilient and perfect for various scraping techniques, as well as mixing and adding structure to paint, gels, modeling paste and various other pasty materials. These scrapers are also perfect for applying paint and gels in layers. Three sides have fine to rough serrations, while one side is smooth. Can I use acrylic paint on paper?
Did you know you can use acrylic paint on paper as well? Not just any paper, though, as the paint will most likely seep through the porous surface or warp too much to be usable. Specially prepared acrylic paper, on the other hand, is great for those who prefer to work on paper. Acrylic paper pads an affordable option, easy to transport and great for sketches or drafts using acrylic paint.
Amsterdam offers two types of paper suitable for acrylic paint: the prepared paper pads and the special art pad with waterproof synthetic paper. The first is made of high-quality cellulose and is lignin free. The surface has a medium-fine grain and is ideal for use with acrylic paint or markers. The art pad is made of waterproof synthetic paper that is super strong, smooth and tear resistant. This paper is great for pouring, airbrushing and other techniques that require a flat surface. Besides paper for use with acrylic paint, we also offer regular sketchbooks for your sketches and drafts. Does Amsterdam offer spare parts?
To extend the life of certain products and to make them more versatile, Amsterdam offers various spare parts! These include spare caps in different sizes for Amsterdam spray paint cans, dosing nozzles to attach to your Amsterdam acrylic paint tubes and spare nibs for the Amsterdam markers.
Spray paint caps
All Amsterdam spray paints are fitted with a standard cap (2.5 cm, black). If you're looking for thinner or thicker lines, we also offer super skinny (1.5 cm, gray), soft (3.5 cm, blue) and fat (6 cm, pink) caps.
Dosing nozzles
Dosing nozzles make it very easy to paint straight from the tube and to create fine lines or small dots. The best part is that you can seal this nozzle and protect your paint from drying out, so you can start right where you left off during your last painting session without having to switch caps. These nozzles fit onto the 75 ml, 120 ml and 150 ml tubes.
Spare marker nibs
Amsterdam marker nibs are reversible, so if your nib wears out, you can turn it around to give it a second life. If both sides of your nib are worn down, however, you can easily replace it with a new one. We offer spare nibs for all three marker sizes: small (2 mm, round), medium (4 mm, round) and large (15 mm, square).