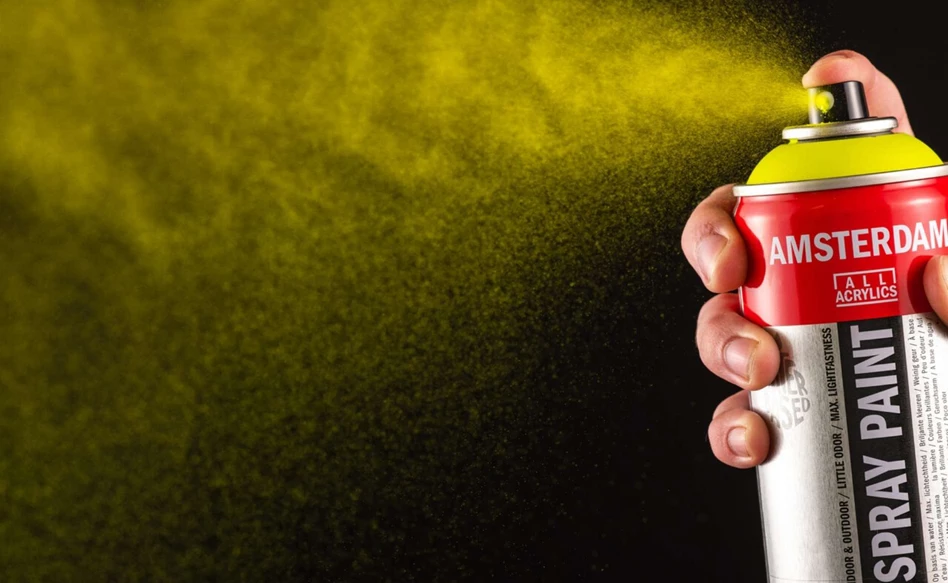 What makes Amsterdam spray paint so special and how do I use it? Can I create different line widths with Amsterdam spray paint? What should I do if my spray can stops working? Read everything you need to know about our spray paints in this blog!
What are the advantages of Amsterdam spray paint?
Amsterdam spray paint is made with high-quality pigments and is available in 94 colors. Unlike regular spray paints, Amsterdam spray paints are low in odor with a water-based, solvent-free formula, making them ideal for studio use. The fine dispersion of the paint ensures a consistent release of intense, lightfast colors.
Easily create even layers, beautiful color transitions, gradients and special effects! Amsterdam spray paints are perfect for color mixing, overlaying and creating soft color transitions. Due to the water-based formula, the paint doesn't dry too quickly, which allows you to use them for wet-on-wet techniques as well.
Advantages:
94 brilliant colors, including a range of transparent colors!
Water-based formula
Waterproof once dry
Extremely lightfast*
Can be combined with Amsterdam acrylic paint and Amsterdam markers
Adheres to virtually any slightly porous surface, including canvas, paper, wood, stone, cement and surfaces prepared with gesso
*All colors have high degrees of lightfastness, except for our line of Reflex (neon) colors. Please look at the color chart for the correct lightfastness for every color.
Fun fact: the donut – the ring around the nozzle of the can – has been sprayed with real paint. This way you always know the exact color you get.
Check out the full collection here! How do I use Amsterdam spray paint?
Here's a short how to:
Shake the can for one minute
Test the paint by spraying on a test surface
Be sure to hold the can upright during use
Spraying in the same spot or moving the can slowly will give you interesting drip effects
Make sure to clean your spray cans after each use (find out how to properly clean your cap below).
Of course, there are many different techniques you can use with spray paint, so how you paint is up to you. How do I create different line widths with spray paint?
All Amsterdam spray cans are fitted with a standard cap (2.5 cm, black). With this cap, you can easily vary the thickness of the line by spraying closer or further away from your artwork.
Looking for thinner or thicker lines? Amsterdam also offers Super Skinny (1.5 cm, gray), Soft (3.5 cm, blue) and Fat (6 cm, pink) caps. Create special effects and add more variety to your work by changing up your caps! These caps are available in a set of 6 with 2 of each cap. What should I do if my spray paint stops working?
If your spray paint suddenly stops working, it could be caused by three different situations:
Paint is leaking from the can itself, sometimes foaming, and accumulating under the cap and/or at the spray base of the can.
Only a small amount of paint sprays from the cap, runs down the cap and accumulates underneath.
No paint comes out of the cap, it all accumulates underneath.
Below, we will describe what you can do in each of these situations. Read on beyond these solutions to learn how to prevent clogged caps.
1. Paint is leaking from the can itself
This may be a manufacturing error. If the paint is leaking from the spray can itself and accumulating under the cap, please send us an e-mail with photos via info@royaltalens.com and we will help you find a solution or replace the can entirely.
2. Paint only comes out in small amounts
This can happen when the cap of your spray paint is slightly clogged by dried up paint. The paint is unable to completely leave the cap, which makes it run down the side and creates a mess. To unclog your spray paint cap, take it off the can and clean it with a wet cloth. If this doesn't work, try using our cap cleaner. Just place the cap on top of the cap cleaner and spray until it runs clear. In some cases, the paint has dried out too much and does not budge. Completely dried out caps are unsalvageable and should be replaced.
3. No paint comes out at all
In this case, your cap is completely clogged with dried paint. Try cleaning it like in case 2, with a wet cloth or our cap cleaner. If this doesn't help, you should replace it.
Separate caps
Standard spray paint caps are sold separately in a set of 6, or for avid users, a set of 100! We also offer an assorted set with 2 of each special cap (Super Skinny, Soft and Fat). If you don't feel like buying new caps all the time, read on to find out how to prevent your spray paint cap from clogging. How can I prevent my spray paint cap from clogging?
The cap of your spray can may become clogged after frequent use through a buildup of dried paint. When your cap is clogged, use the Amsterdam cap cleaner to easily unclog it. Enjoy your caps even longer: put them on the cap cleaner after every session to clean them out and prevent them from clogging in the first place!
How to use:
Place the clogged cap on the cap cleaner
Spray approximately 2-3 seconds until the spray runs clear
Now your can is ready for your next painting session
Tip: If you're working with multiple colors, take off the caps of the spray cans and use just one at a time for all of your colors. If the cap gets clogged, replace it with another! This way, your caps will last longer. More questions
If you have a question about spray paint (or any of our other products) that hasn't been answered here, feel free to contact us via info@royaltalens.com. We love helping you make the most out of our paints and tools!
If you want to learn more about acrylic paint, mediums and different techniques, check out our other blogs and videos below.